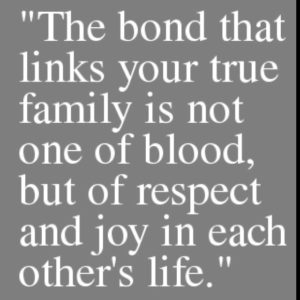 In a casual conversation a few days ago, I was talking with someone about careers and laughing about how priorities change. Ten years ago we were climbing the corporate ladder and now we just want to go home and sit in the backyard. How things change! When we were wrapping up he said "I know you'd like to get home to your family….I mean, not your family….but to your husband." He caught himself when he said family and tried to correct it.
Why would there be a need to correct that!? Uhhhhhh…..I thought that my husband and I were a family. Aren't we!? I was surprised. Does that mean because we don't have children together that we aren't a family? Does that mean every childless couple is just that? A couple?? And they can never be more?
So that got me thinking.
———————————————————————————-
Sandy's official definition of family:
Group o' humans joined together through emotional ties; who you can count on at any time, day or night; who care about your existence and will fight to protect you; who know the good and bad about you but still love you; who matter to you; who you want to call when you have a really good day or really bad day.
———————————————————————————-
There are no right or wrong definitions of a family, right? I think we can all agree that blood relatives are not the best indication of family. Maybe on paper, yes. But in reality!? Nope. Some people have blood relatives who aren't even on their radar. Read the soon-to-be-famous-Sandy's-official-definition-of-family again. Those who meet that criteria could be extended family, friends, neighbors, co-workers or covered in fur or feathers.
The point is that we shouldn't define ourselves by what someone else calls us. We make that distinction.
So…do I have a family? Yes. And I am going meet that family at Outback for dinner. Table for two.
0